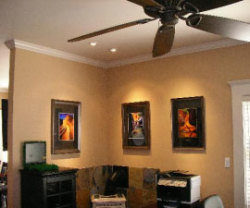 Providing a full range of electrical services to homeowners throughout San Diego, Knutson Electric is here to help you keep your home's electrical systems in tip-top shape. From wiring your new construction house to installing landscape lighting, our professional electricians provide the installation, maintenance, and repair services you need. With over 30 years of experience providing expert electrical workmanship, Knutson Electric is the electrical contractor you can trust for a job well done.
Emphasizing the importance of superior customer service as well as careful craftsmanship, our electricians in San Diego offer courteous service and electrical workmanship you can count on. And since we're a full-service electrical contractor, we're your one-stop shop for just about any electric project. For convenience, quality, and service, Knutson Electric is the electrician to call! We offer:
Electrical system maintenance and repair
Light switch installation
Electrical outlet and GCFI installation
Circuit breaker replacement
Lighting installation, including security and landscape lights
Ceiling fan installation
Hot tub and spa wiring
Appliance installation
Electrical panel upgrades
Cable, data, and phone wiring
House rewiring
Electrical troubleshooting and repair
Smoke alarm replacement
And more!
So whether you're in need of electrical repairs or need an electrical contractor to help with a renovation, our professionals are ready to take great care of you.
Lighting Design and Installation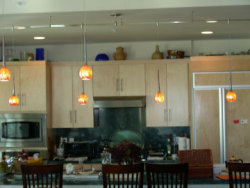 Unlike electricians that just install light fixtures, Knutson Electric specializes in residential lighting design as well as installation. Our professionals can work with you to identify your lighting needs, then create a personalized lighting plan that highlights particular features of your home, ensures adequate light in dark corners, and so much more. At Knutson Electric, our electrical contractors specialize in helping our customers get the absolute best lighting for their space and their lifestyle. From installing decorative sconces and pendant lights to putting in ceiling fan lights and recessed lighting, our team has what it takes to create the lighting design of your dreams. And of course, we provide complete, correct installation on all types of light fixtures, ensuring you get both the look and the workmanship you deserve. We even provide landscape lighting and energy-saving low-voltage light fixtures, so no matter what your particular lighting needs, the Knutson Electric electricians should be able to help. Have questions? Call today to learn more.
Wiring and Electrical Installations for Residential Remodeling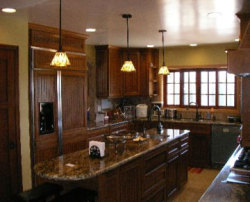 Whether you're finally upgrading to that dream kitchen or you're concerned about your historic home's old wiring, the electricians at Knutson Electric are your answer for safe, correct electrical remodeling services. We provide a full range of electrical wiring and fixture installation services, and we can even install your new kitchen appliances. From full-scale renovations to light installations and wiring upgrades, our team of electrical contractors in San Diego has 30 years of experience providing efficient, effective electrical remodeling services. Our professionals work closely with you to identify your specific electrical needs from upgrades to new installations, and then we work hard to ensure the project is completed smoothly and promptly. At Knutson Electric, we understand that time is of the essence when it comes to remodeling projects, and we go above and beyond to ensure your home is livable during the project as well as after it is finished. When you want safe electrical workmanship, superior customer service, and gorgeous results, we're your electricians in San Diego for remodeling projects large and small.
Residential Electrical Repair
If you're having problems with your switches, outlets, or breakers, it's time to call in the pros at Knutson Electric. When you're experiencing electrical problems, not only is it annoying and frustrating, it can also be unsafe. But our team of electricians is standing by to help ensure you get the top-quality residential electrical repairs you can trust! Just give us a call and we'll send our expert electrical contractors to diagnose and pinpoint the root cause of your electrical issue. We then provide careful, correct repairs to ensure your home's entire electrical system is able to function at peak. Providing you the electrical repair service you can rely on, Knutson Electric is the electrical contractor you can count on to keep your family safe.
And remember, for electrical installation, maintenance, and repairs of all types, it's best to leave the job safely in the hands of professionals. DIY electrical repair and installation is just too dangerous to risk it: from electrocution to fire hazards to incorrect installation and repairs, your safety and the safety of your family is at stake. Instead, you want to call the pros at Knutson Electric and know the job is done right the first time! Your one-stop electrical contractor for complete repairs and installations, you can place your trust in our 30 years of experience. We have what it takes to do the job right. Contact our licensed electricians today for safe electrical services in San Diego.