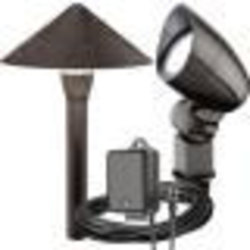 Whether you're concerned about safety or showing off your home and yard to their full advantage, landscape lighting from Knutson Electric can help you light up your yard for less. Our commercial and residential electricians specialize in low voltage LED landscape lighting, providing you with the outdoor landscape lights you need without running up your electrical bills. We have the lighting design expertise, electrical installation knowledge, and high-tech LED lighting components you can rely on for the very best in landscaping lights. Make sure your home or business can shine: call or e-mail Knutson Electric today to get started on your landscape light installation!
From walkway lights to security lights and more, landscape lighting provides both practical and beautiful function for your home or business. But it shouldn't have to cost you an arm and a leg to get the lighting performance–or installation–you need. That's where Knutson Electric comes in. Our commercial and residential electricians in San Diego provide low voltage LED landscape light solutions. That means you can keep the lights in your yard without the high energy usage and exorbitant bills. And with our affordable outdoor landscape lighting design and installation services, getting your landscape lights has never been easier or more cost-effective.
At Knutson Electric, our trained electricians will work with you to identify your specific outdoor lighting needs and create a lighting plan that's customized to your specific property and requirements. We'll then install the state-of-the-art low voltage LED's and landscape lighting accessories to bring that lighting design to life. We can create your personalized outdoor landscape lighting with any combination of:
Walkway lights
Accent lighting
Spotlighting
Architectural lighting
Deck and patio lighting
And more!
Bringing you safe, beautiful exterior lighting and energy-saving performance, our landscape lights are your answer for ensuring your home or business looks great day and night. Knutson Electric is here to take great care of you and your outdoor lighting, offering expert workmanship, great pricing, and experienced electricians you can count on to do the job right.
Start saving money with LED landscaping lights today: let Knutson Electric take care of all of your outdoor lighting needs!