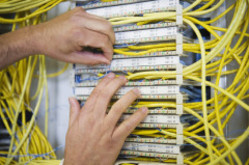 Whether you're remodeling your office and need to add new phone lines or just want to extend the cable wiring in your home, Knutson Electric is here to help. We specialize in all types of wiring for both residential and commercial customers in San Diego! From electrical wiring to phone and data wiring, we have the hands-on knowledge to do the job right.
Your one-stop shop for data and electrical wiring, Knutson Electric provides phone and cable line installation for both new construction and renovation projects. We put our 30 years of experience as professional electrical contractors to work, using our specialized knowledge and tools to carefully and correctly install all types of wires. From putting in phone and cable lines for private homes to expanding the networking capabilities of offices and businesses, our experts can both design and install your data processing cables. The Knutson Electric team wants to ensure you get the performance, convenience, and reliability of top-quality phone and cable line installation wherever you need it. We're available to put in:
Phone lines
Cable
Data and network cables
Have questions? We'd love to discuss the specifics of your project, so feel free to give us a call for your free estimate.
Attempting phone and cable line installation yourself can be a major hassle, but with the electrical contractors at Knutson Electric on your side, we'll eliminate both the stress and mess. Leave it to the real pros and you can count on a job done right the first time. For complete, correct phone and data wiring in San Diego, we're the electricians for the job. Call or e-mail us today!